For Rowena Leslie and Katrina Stubbs, life in mining is very much a family affair.
Not just because the sisters are directors and owners of Goldfields-based and Aboriginal-run Kai Rho Contracting, which more than nine years after it launched, continues to grow.
But also because Kai Rho reinforces a family link with mining that now spans four generations.
"From a very early stage, how we've survived in Kalgoorlie and the Goldfields is through mining," Leslie explained.
"Our great grandfather used mining to survive and our grandfather built on that. Then our mother started Bundarra Contracting and was also part of BYAC Contracting, which was established in the early 1990s.
"These were family businesses that offered services to the mining industry, specifically aimed at getting Aboriginal people into mining work by providing skills that would enable them to thrive in the industry.
"At an early age I can remember being very familiar with mining, going out and pegging blocks and doing a bit of exploration on tenements with my grandfather and his brother."
Kai Rho Contracting started out in December 2013 with one 15,000-litre water cart as a "dry hire" operation – meaning anyone hiring the equipment had to supply their own operator.
Over the past nine-plus years, Kai Rho has continued to achieve key milestones that help develop and expand the company's capabilities, which include a sizeable fleet of servicing machinery plus a range of civil construction plant and equipment. The group provides a variety of mining and civil work services – such as road construction and maintenance, clearing, waste management, and rehabilitation – and has a reliable resource of skilled operators on its books, many of them Aboriginal.
"We have a carefully developed set of HR processes that make Kai Rho unique in the industry," Leslie said.
"It is built on the fundamental understanding and respect for the set of skills each of our operators have and can bring to the mining industry."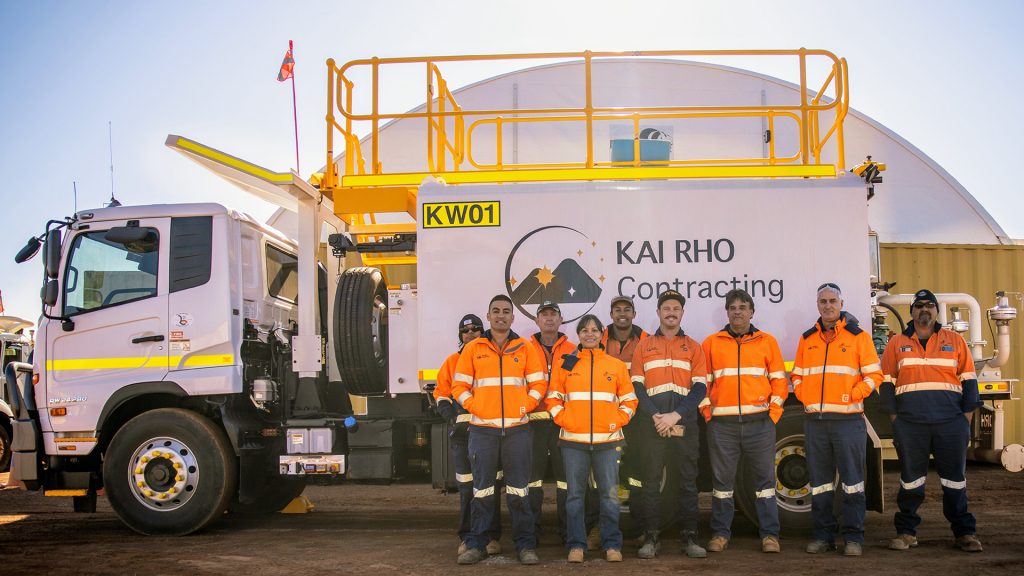 Kai Rho staff have more than 40 years' experience in the mining and civil industries and include an operations manager and a project manager overseeing day-to-day running of the work schedule.
Current work includes a flagship contract at AngloGold Ashanti's Tropicana gold mine and various civil works projects.
"We are a preferred supplier for DM Roads, who are responsible for maintenance for Main Roads in the Goldfields," Leslie said.
"And we have also worked with the Wongutha Way Alliance on the road sealing of 40km of the Outback Way connecting Laverton to Queensland, via Alice Springs."
The sisters are continually making plans to grow the company's capabilities. A significant recent achievement has been the ISO Accreditation awarded to Kai Rho for its integrated management systems in environment, occupational health and safety, and quality assurance.
For Leslie, who began her professional career as a lawyer, that means Kai Rho is ensuring its services continually meet quality outcomes and industry standards for all clients.
Stubbs – who has a background in finance and human resources – is dedicated to the company's conscious decision to plan its growth over time.
"It's really rewarding – having the autonomy to plan your day and run your business the way you want it. That's one reward, then having the ability to directly contribute to the local economy and the development and placement of skilled mining staff is an even greater reward," Stubbs said.
"We love running the business and think anyone who is passionate about what they want to do should just go for it."
Leslie and Stubbs are now passing on learnings from Kai Rho to other Aboriginal business owners via the Goldfields Aboriginal Business Chamber, which launched in September 2020 after a year of development with key stakeholders and community leaders.
The Chamber now has more than 20 members and celebrated twin milestones early in 2022, when it opened an office in Kalgoorlie-Boulder and appointed an executive manager with financial support from leading WA mining services company Mineral Resources.
The GABC aims to increase the visibility of local Aboriginal businesses to major industries in the region and Leslie, who serves as its chair, said she wanted to see others achieve in the mining industry as Kai Rho has.
She said it was vital Aboriginal people were able to find traction in the mining and resources sector, whether it be through running their own businesses, working with a company like Kai Rho or being employed directly at an operation.
According to the Chamber of Minerals and Energy of WA's 2019 Diversity Report, Aboriginal participation in mining and resources was 4.7 per cent – above the all-industry WA average of 1.9 per cent but also with much room for growth.
"If we're able to create opportunities for Aboriginal people in this market that will have a ripple effect," Leslie said.
"It will mean we are able to provide avenues for them to contribute their skills to the industry and following a good day's work they can go home feeling confident and valued, which leads to stronger healthier families in our community.
"All anyone wants to do as a person is look after their family and their home – that's what you live and work for, that home environment, your family, and your children, and you want a future for them. It's exactly the same for Indigenous people.
"It seems that we have survived the mining's impact in our region, we have learned to make a living from it, we have proven skills and experience, and we will continue to build on opportunities for our community – a community we know, live in and care for."