Last updated – 2.55 PM, Monday 6th April
Australian Update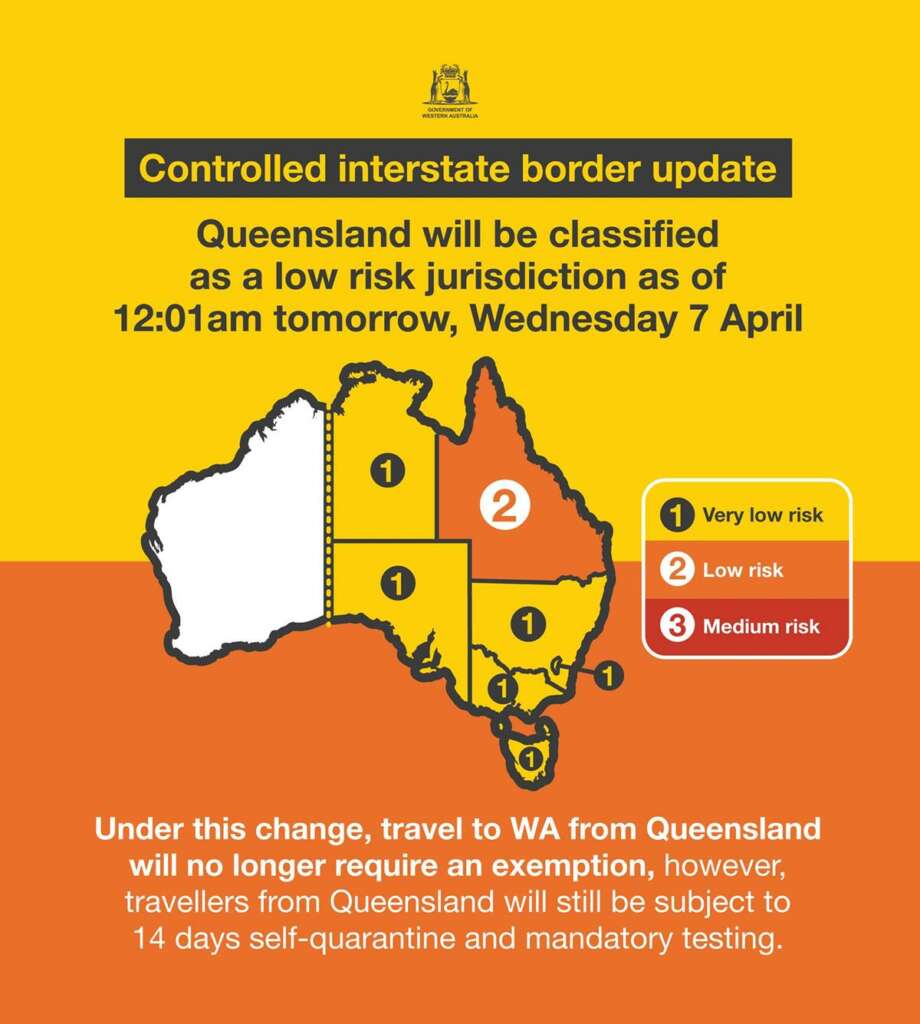 Australian Update
WA, NSW, QLD, ACT and Victoria reported no new cases of COVID-19 overnight.
—
Australian residents will be able to fly to New Zealand – without having to enter mandatory hotel quarantine – in less than two weeks.
New Zealand Prime Minister Jacinda Ardern has given the trans-Tasman bubble the green light after more than a year of closed international borders with Australia.
Ms Ardern said the two-way quarantine-free travel corridor across the ditch will start at 11.59pm April 18, with major airlines – including Air NZ and Qantas – able to take bookings from April 19.
People can already travel from New Zealand to most parts of Australia without having to undergo mandatory quarantine, but the trans-Tasman bubble will allow people from both countries to be exempt from quarantine restrictions.
Last month, Ms Ardern outlined a number of concerns she said needed to be resolved before the bubble opens, including the response to potential outbreaks, how contact tracing between the two countries will work and being provided with an up-to-date risk assessment from New Zealand's director-general of health.
Ms Ardern said that the new bubble will come with some hurdles for travellers departing from Australia, but has confidence the corridor will work.
"When those in Australia, currently, make the welcome decision to come to New Zealand, they'll be making a booking on what is called a "green zone flight"," she explained.
"That means there'll be no passengers on that flight who have come from anywhere but Australia in the last 14 days.
"They will also be flown from crew who have not flown on any high-risk routes for a set period of time. Passengers will need to provide comprehensive information on how they can be contacted while in New Zealand. They won't be able to travel if they have cold or flu symptoms.
"When they fly, they will be required to wear a mask on a flight and will also be asked to download and use the NZ COVID Tracer app for use in New Zealand. On arrival, passengers will be taken through what we will call 'the green zones' at the airport, meaning there'll be no contact with those arriving from other parts of the world.
"We will also be undertaking random temperature checks of those arriving as an extra precaution."
Qantas and Jetstar will be flying between Australia and New Zealand under the travel bubble that is set to commence from April 19.
The airline said all pre-COVID routes will reopen, as well as two new routes — Auckland to Cairns and the Gold Coast.
To begin with, the airline says it will operate up to 122 return flights per week.
—
Vaccinations 'on track' despite slow rollout
Prime Minister Scott Morrison said as of April 5, around 854,983 doses had been administered. Of those, 280,943 had been done through GP clinics.
Mr Morrison said he was meeting with state and territory leaders on Friday to discuss having more transparency around the nation's vaccine program.
WA Update
Following the latest expert health advice, Queensland will transition to from a 'medium risk' to a 'low risk' state under WA's controlled interstate border from 12.01am tomorrow (Wednesday, 7 April).
Under this change, an exemption will no longer be required to travel to WA from Queensland.
However, strict conditions will apply for all travellers from Queensland, including:
self-quarantine for 14 days in a suitable premises;
present for a COVID-19 test on day 11;
all Perth Airport arrivals to undergo a health screening and temperature test;
be prepared to take a COVID-19 test at the airport COVID clinic, if deemed necessary by a health clinician (voluntary asymptomatic testing available for all airport arrivals);
land arrivals to be met at the border checkpoint, for a health screening and to have their G2G Pass declaration checked before proceeding to self-quarantine premise;
complete a G2G Pass declaration, stipulating they do not have any COVID-19 symptoms and which jurisdictions the traveller has been in over the previous 14 days.
The WA Chief Health Officer will continue to monitor and review border controls to determine if any further adjustments can be made in the future.
More information on WA's controlled borders is available at www.wa.gov.au.
International Update
With just over 100 days to go to the Tokyo Olympics, Japanese health authorities are concerned that variants of the coronavirus are driving a fourth wave. The variants appear to be more infectious and may be resistant to vaccines, which are still not widely available in Japan.
North Korea's sports ministry said today that it will not participate in the Tokyo Olympics this year to protect its athletes amid the coronavirus pandemic.
Many Indian state leaders have asked Prime Minister Narendra Modi to open up vaccinations to most of the country's hundreds of millions of adults, following a second surge in infections that has eclipsed the first wave. India breached the grim milestone of 100,000 daily infections for the first time yesterday.
UK prime minister Boris Johnson confirmed it will move to the second stage of its lockdown lifting from next week, as non-essential shops, pub gardens and hairdressers will reopen.
In France the number of people in intensive care units with Covid rose by 92 to 5,433 yesterday.
Another 296 people have died in Italy, bringing its death toll to 111,326. New infections fell from 18,025 to 10,680.
The infection rate in Spain has risen again to an average of 163.4 per 100,000 over the last fortnight, as it reported 85 more deaths.
The US has now administered 167,187,795 vaccines and distributed a total of 207,891,395 to clinics.
Mexico's government reported another 252 more deaths yesterday. It means that 204,399 have now died from the virus.
COVID WA Helpline:
1800 020 080
For the latest official updates on COVID-19 please visit https://www.australia.gov.au/ and https://www.health.gov.au
For information on mental health support please visit https://www.lifeline.org.au/ or call 13 43 57