Plenty of people will have seen highlights of mine rescue competitions, which are typically run over the course of a couple of days.
What most won't ever see is the hundreds of hours that go into making each competition and the scenarios faced by participants into a reality – and the countless hours teams put in preparing to compete.
"The CME Mine Rescue Committee runs year-round. As soon as we finish one competition, we roll straight into organising the next one," Daniel Goss explains.
"We might spend 50 to 100 hours designing the event, completing risk assessments or finding adjudicators – people who are experienced in mines rescue who can assist in scoring and facilitating.
"As we work towards an event, it's monthly meetings to start with which become weekly; but in between those meetings the competition event managers are always working on the execution of the event
"There are eight scenarios in a competition, so when you multiply that by each team, there are thousands upon thousands of hours and millions of dollars of people's time in-kind and also put in by the host mine to have these competitions up and running."
Goss is particularly well-placed to assess what goes into a mine rescue competition, both from the perspective of a competitor and as an organiser.
A Superintendent at Gold Fields Australia's St Ives Gold Mine south of Kambalda, Goss originally got into emergency response work and competitions when he started out in mining at BHP Billiton in Leinster in 2007.
After participating in competitions in 2009, 2010, 2011 and 2013, a move to a full-time role in emergency services with Gold Fields coincided with a shift into the organisational side of rescue competitions.
Earlier this year he oversaw the team skills event at the Goldfields Surface Mine Rescue Competition and in November he did the same at the Underground Mine Rescue Competition being hosted by Evolution Mining.
Disciplines put to the test during competitions include firefighting, hazchem response, first aid, team skills, vehicle extrication, rope rescue, incident management, confined space rescue and theory.
"There is no way we could deliver that level of training on site," Goss said.
"We use the competitions to benchmark and make sure that if there was an emergency on site that teams can effect a rescue if required.
"We don't have the resources to set up scenarios on site like these [competition] ones, which are so realistic and have so many moving parts, like casualties with wounds to treat.
"There's also the pressure that gets applied during competition. We've got no way to test that on site in the same manner, so competitions are invaluable for that."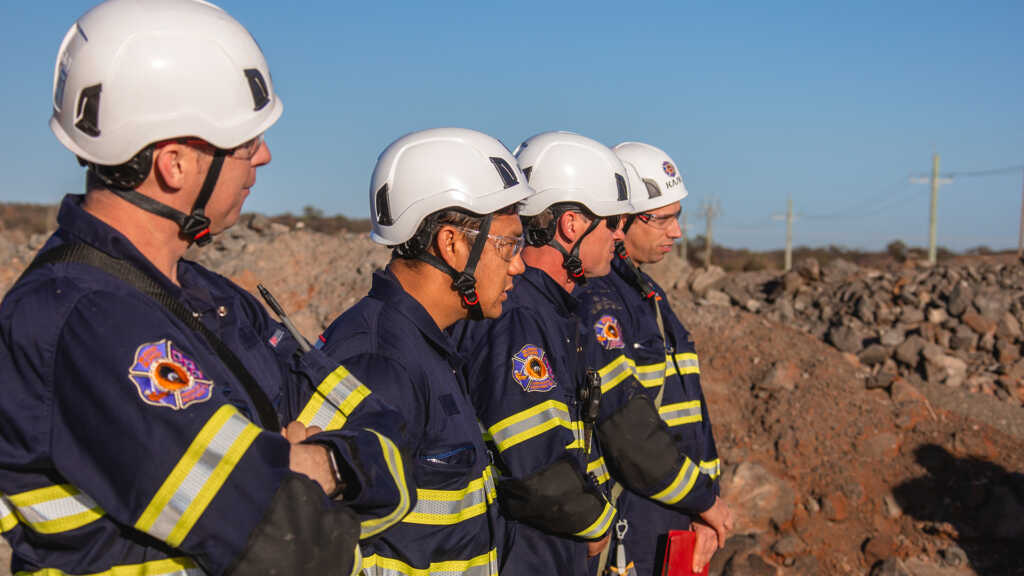 Goss has seen plenty of changes in his nearly 15 years involved in rescue competitions.
In terms of team demographics, the gender make-up has shifted in a reflection of the growing participation of women in mining. According to Goss, most teams now include female members.
The incorporation of more technology, including virtual reality, could be another development that is on the horizon.
From his own perspective, Goss is relishing his ongoing role in the organisation of competitions.
"Moving from being a team member to an event manager and adjudicator has probably been one of the most rewarding things for me," he said.
"Seeing how different teams attack the same scenario differently and what their thought processes are.
"You probably learn more as an event manager than as a team member because you see those same scenarios executed in very different ways.
"We also get to bounce off people who have been doing this for 30 or 40 years and voluntarily give up their time to support people like myself who are trying to manage events.
"It's an amazing group of people."