In the last month, CME was invited to participate in five roundtables facilitated by Infrastructure WA to discuss draft recommendations from the Foundations for a Stronger Tomorrow on transport, energy, water, waste and planning coordination and delivery. The roundtables were well-attended by representatives from State agencies, departments, peak industry bodies, not-for-profits and consultants.
Following these roundtables, CME lodged a detailed submission commenting on more than a third of the report's 88 recommendations. There is an opportunity for the State Government to better connect the dots and support growth of battery and critical minerals and other new industries in WA, establishing and growing our market position in the world's transition to a new era of energy transformation.
CME is also pleased to announce we have invited Infrastructure WA to present to the Infrastructure Committee again next month.
Reforming land use planning to protect industry
Recently CME took the opportunity to advocate for greater consistency and certainty in protecting land and transport corridors servicing our industrial hubs in a submission to the Department of Planning, Lands and Heritage. For example, the last gazetted policy guidance on industrial land use buffers is now 24 years old.
As the State Government looks to diversify the economy in congested areas of Perth and Peel, well-established industries and prospective future industries need certainty they can continue to operate and expand in the face of increasing population growth, urbanisation and encroachment. The 10-year Industrial Land Strategy recently provided to the Cabinet highlights these challenges and opportunities, which should be addressed in the delivery of the first ever State Infrastructure Strategy.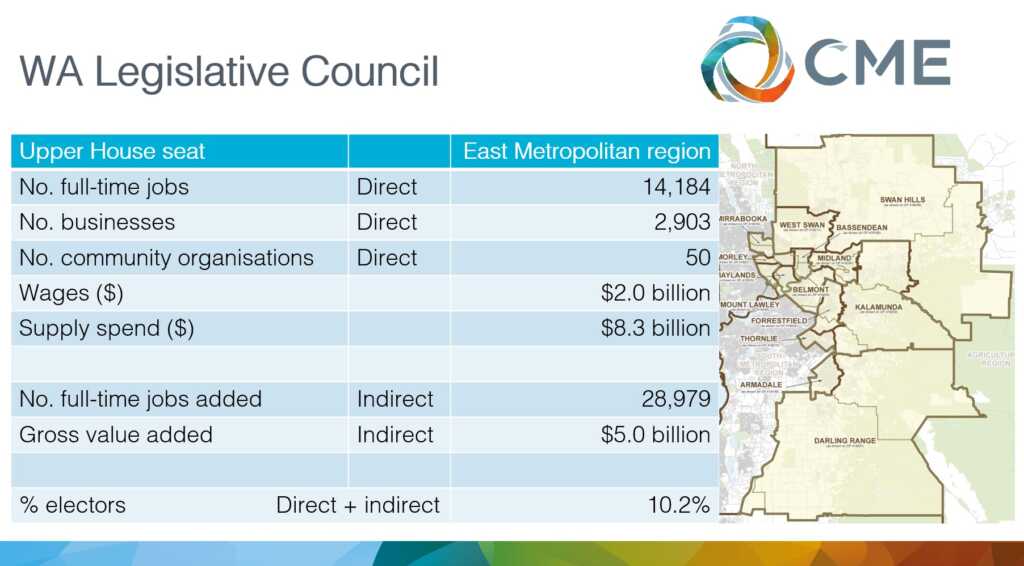 Economic contributions to Swan, Kalamunda and Belmont
CME was invited to present to attendees of the Perth Airport Planning Coordination Forum on the sector's annual economic contributions to the electorates within the vicinity of Perth Airport. The forum is attended by local governments, State agencies, departments and the Federal infrastructure department to support engagement on strategic planning issues for Perth Airport.
For the Lower House seat of Belmont, almost half of the electors have a direct or indirect economic relationship with the WA resources sector. Meanwhile, for the Lower House seat of Forrestfield, about one in seven benefit from economic activity in the sector. Taking a step back to a larger area, the Upper House seat for the East Metropolitan region – one in 10 electors have a working connection with the sector.
Using the survey data we collect every year, CME can do these analyses to demonstrate how the sector powers local economies and communities.
Contact: Linh Nguyen, Policy Adviser – Industry Competitiveness
Email: l.nguyen@cmewa.com